The Education Transformation Project has been supporting a number of projects across Bristol. One of these projects is the creation of a new Top Up application process. Top Up is a process that allows schools to apply for additional funding for children and young people with special educational needs and/or disabilities (SEND).
During a discovery phase it was identified that the process for schools to apply for Top Up funding is laborious and time-consuming. By building a web platform, the application process is being standardised and digitised to enable funding to be awarded more easily and consistently across the city.
Creating a prototype to test ideas
Discovery is only the beginning. Once pain points and unmet needs are fully realised the knowledge gained from discovery can lead to ideas in the form of prototypes, to test or validate any assumptions.
For Top Up the standardisation of need statements and provisions was re-designed in a spreadsheet. This was the easiest, cheapest and quickest way to test the new process and collect user feedback as part of an alpha phase. The standardisation of statements was well-received in multiple workshops with SENDCos (Special Educational Needs and Disabilities Coordinators). However, it was clear that the spreadsheet was becoming hard to manage. This is where we started to validate different wireframes and prototypes – testing them with users as part of a design sprint.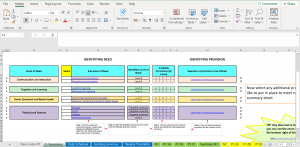 We were awarded a grant to take the ideas further
Initial testing with users gave promising feedback and a funding bid to move the build into a beta phase was made to the Local Digital Collaboration Unit's Round 5 of the Local Digital Fund.
Introduced in 2018 by the Department for Levelling Up, Housing and Communities (DLUHC), the Local Digital Fund aims to help local authorities by funding digital skills training and projects that address common local service challenges in common, reusable ways. Outputs from successful completed projects are made available on the Local Digital website. This means our Top Up funding application software will be made available for any local authority to reuse and adopt, free of charge.
In November 2021 we were informed that our bid had been successful, and we were awarded £312,400 to see the project through to completion.


Creating a working product in Beta
The additional funding meant more people could work on the product and speed up the delivery. The funding has also enabled more features such as the ability to request provisions for funding, the ability to upload supporting evidence and submit an application – with documents automatically sent to Sharepoint.
Phase one was completed by the end of April so that SENDCos could use the tool to create a 'plan, do, review' assessment. It also meant we could start to collect real feedback that influenced the next stage of the build. Regular user feedback and testing has been key to ensuring we are building a product that provides a simple and effective process for the user.
Phase two was recently completed in November, which means we now have a fully working live Beta product. We ran another live workshop with the SENDCos and the feedback was really positive.

The plan is to encourage a group of early adopter SENDCos to keep using it and provide iterative feedback. Before the process and tool can be rolled out to all schools in Bristol it needs to go through a public consultation. But the code and guidance is on Github for any other Local Authority to access.

Watch the final Sprint show and tell video for a full live walk-through of the product.